Mart High School is proud to honor and recognize our amazing custodial staff for all their hard work and dedication to our students and school. Thank you Mrs. Blanca, Mrs. Miranda, and Mr. Williams for everything you do!

For tonight's basketball games vs. Marlin, please plan on entering and exiting the gym from the FRONT of the high school. Parking is available along the front and toward both ends. The rear gym entry will be reserved for Marlin fans ONLY. UIL's standards for fan behavior will be enforced. Let's go Panthers!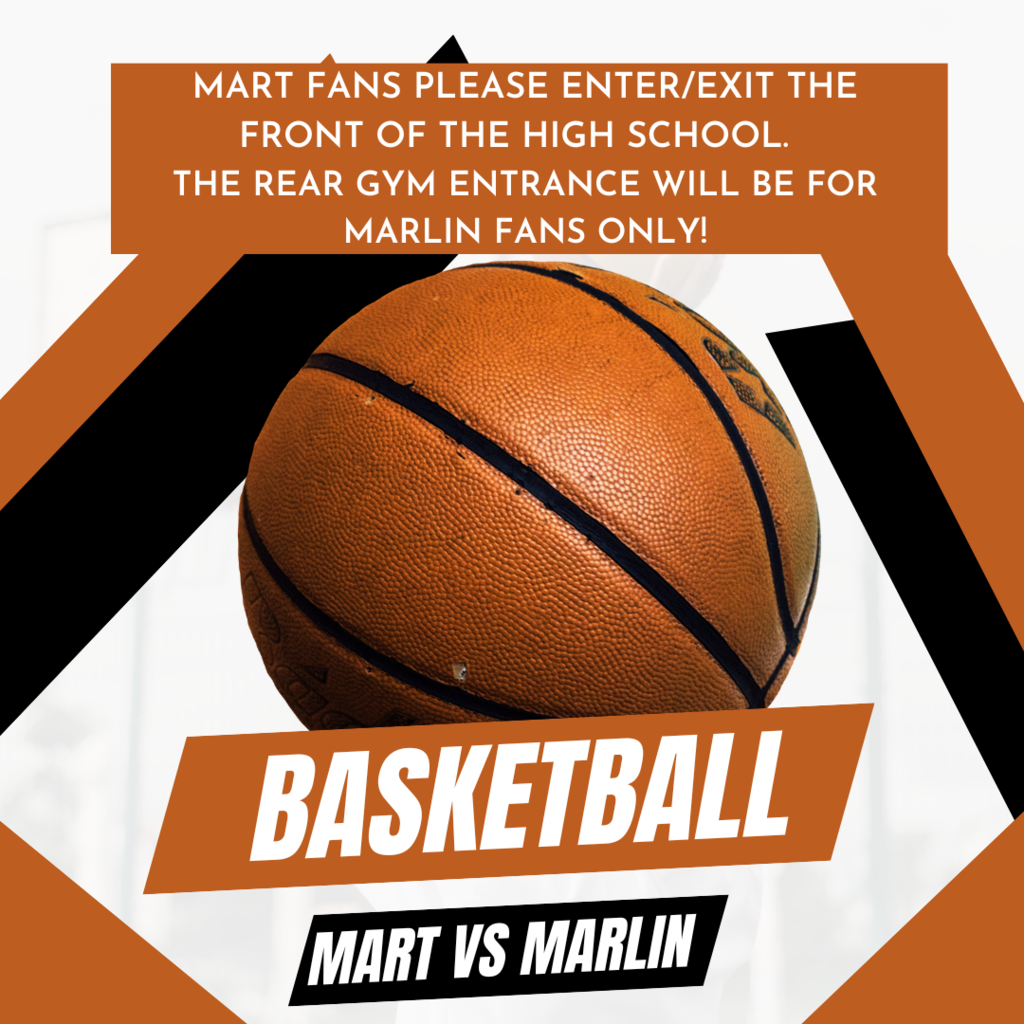 Mart Athletics is proud to present our 2022-2023 Mart Panther Academic All-State Football Players: Caiden Arnett, Wesley Carroll, and Trey Kalka.


Next week's athletic schedule can be found below:


Correction, Kona Ice is only at Elementary today, they will be at the JH/HS on January 19th. I apologize for the confusion. - Ms. Wilton

McLennan County Indigent Health will be at the Mart Administration Building from 1-4pm on January 18th to help any Mart resident with entering the program or assisting with services such as EBT, Medicaid, CHIP, etc. No appointment necessary.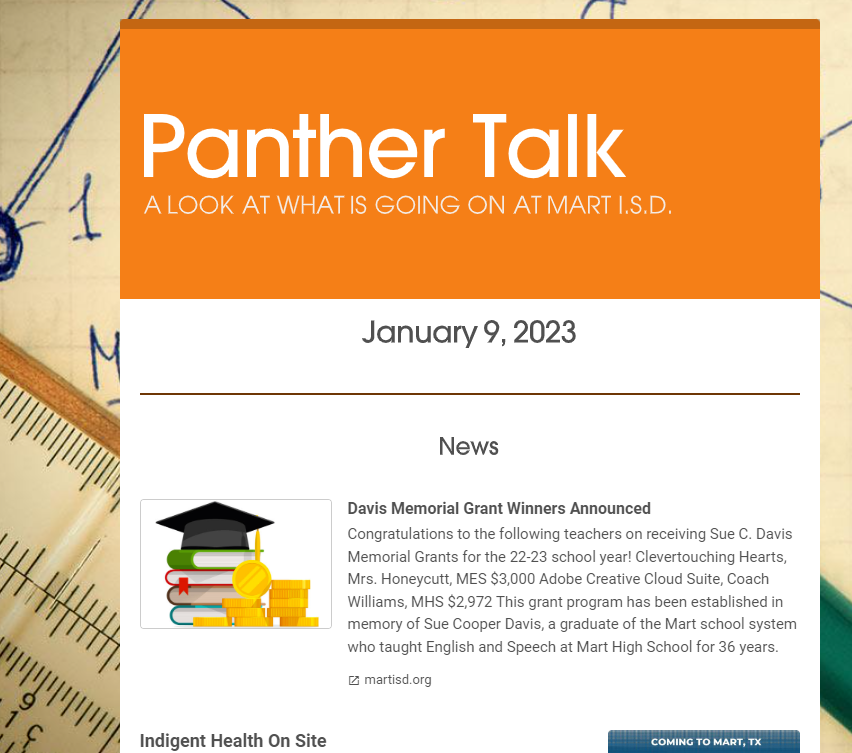 Next week's athletic events can be found here: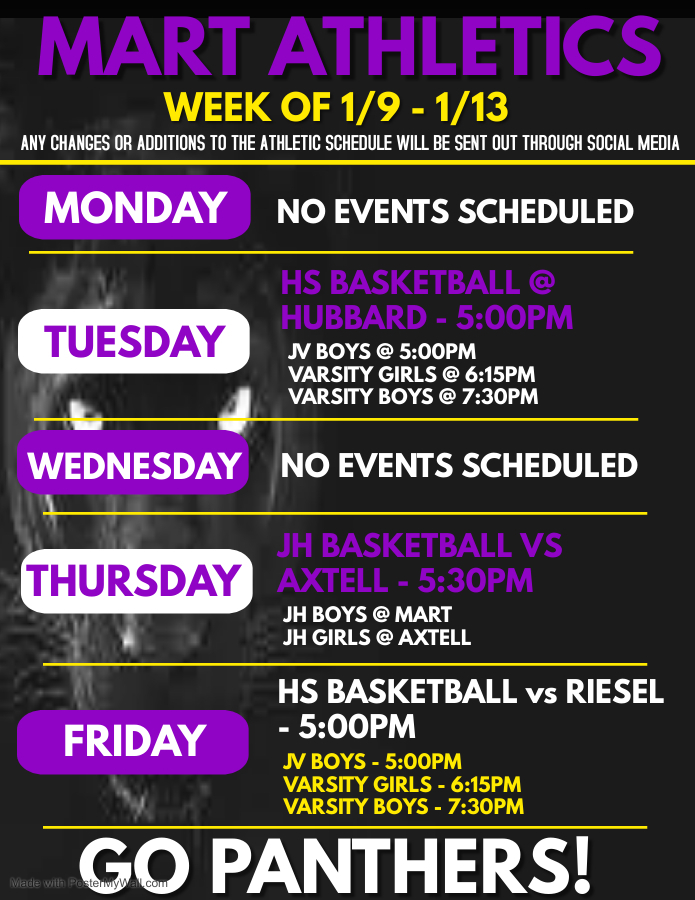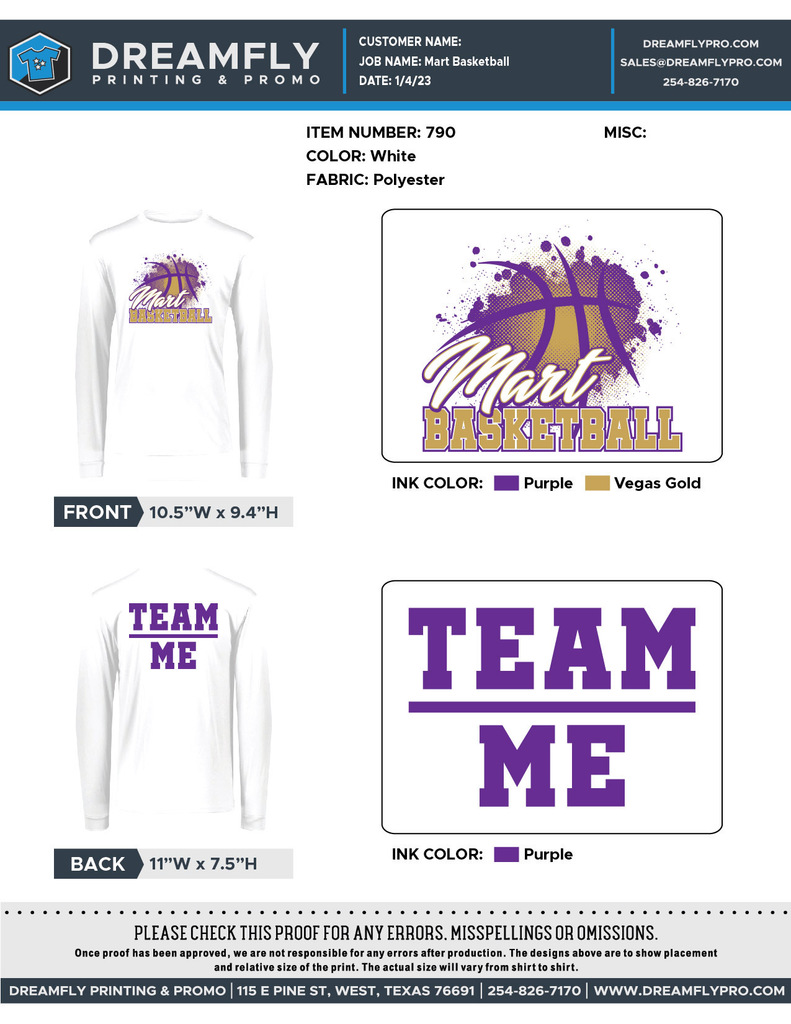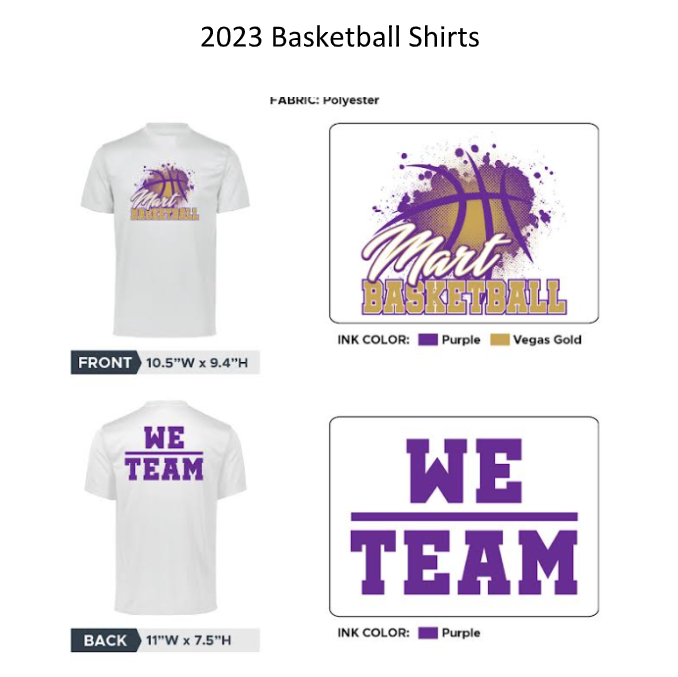 This week's athletic schedule can be found here: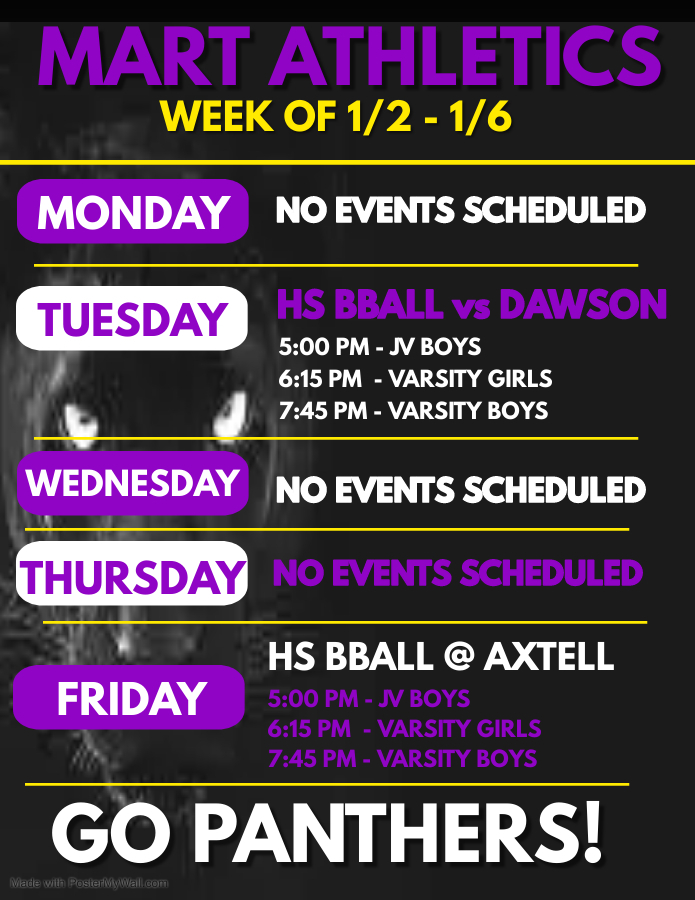 Welcome back Mart ISD! Staff was treated to Travelin' Tom's Coffee and a Rudy's breakfast to start off the new year. We can't wait to see our students tomorrow! #PANTHERFamily

Mart ISD would like to welcome Mr. Roy Logan as our new director of safety and police chief of the soon to be established Mart ISD police department. Mr. Logan comes to Mart from Tyler, where he most recently was Chief Deputy of Smith County Constable Precinct 1. Before joining Smith County, he built and developed the Bullard ISD police department and served as their Chief of Police for many years. Mr. Logan has been married 42 years and has 3 children. We are excited to have Mr. Logan as part of our #PANTHERFamily!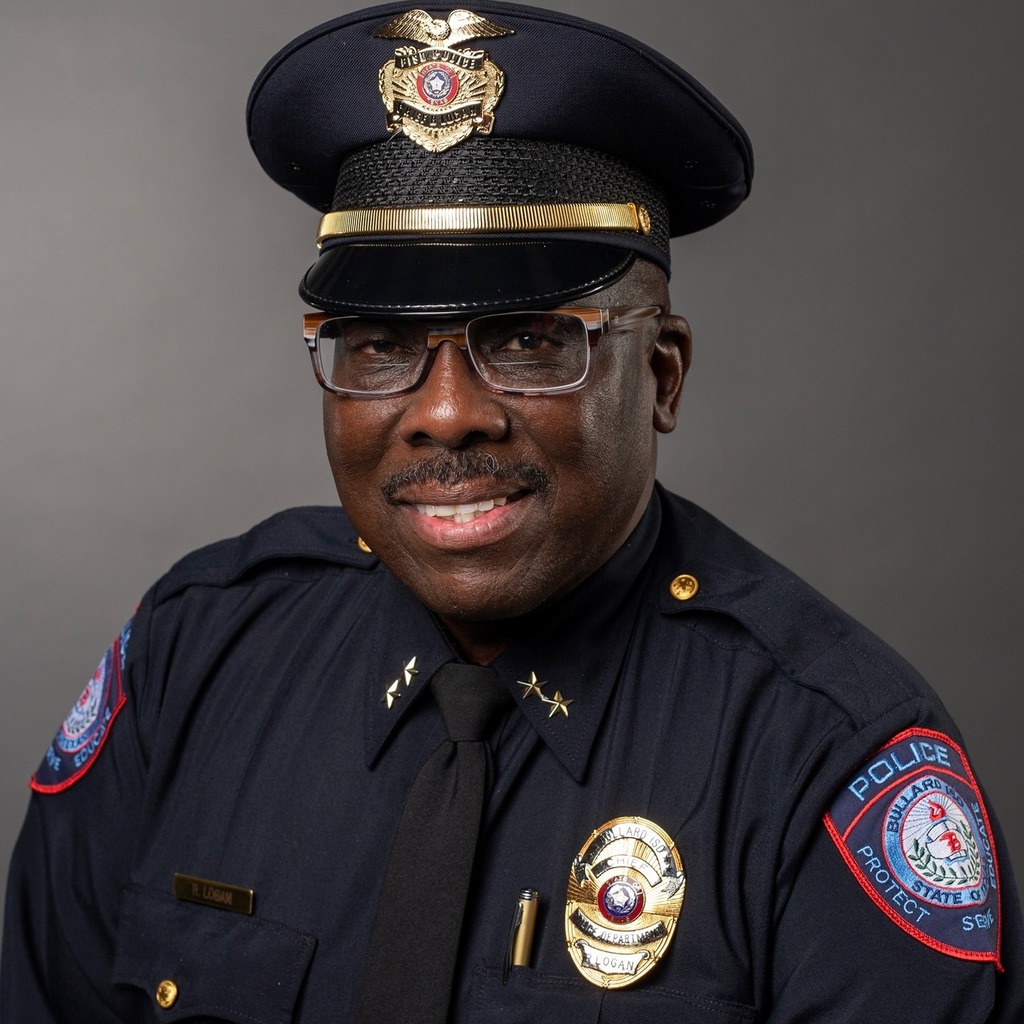 MHS Basketball games tomorrow will start at 10:00 am in Bremond with JV Girls. JV Boys will follow then V Girls & V Boys.

Poppy & Jangles can't make it to the game tonight - but they'll be supporting the Panthers by watching Bally Sports Southwest! 2022 UIL FOOTBALL CHAMPIONSHIPS TO AIR EXCLUSIVELY ON BALLY SPORTS SOUTHWEST Viewers can watch the games live on the Bally Sports Southwest and Bally Sports Southwest Extra channels with their paid-TV provider. Some games will air on the main channel, and some will be on Extra. Check channel listings here: GetMyHomeTeams.com LIVE STREAM Fans can also watch via the live stream on BallySports.com or via the Bally Sports app. First-time subscribers to Bally Sports+ can try it for free with a 7-day trial.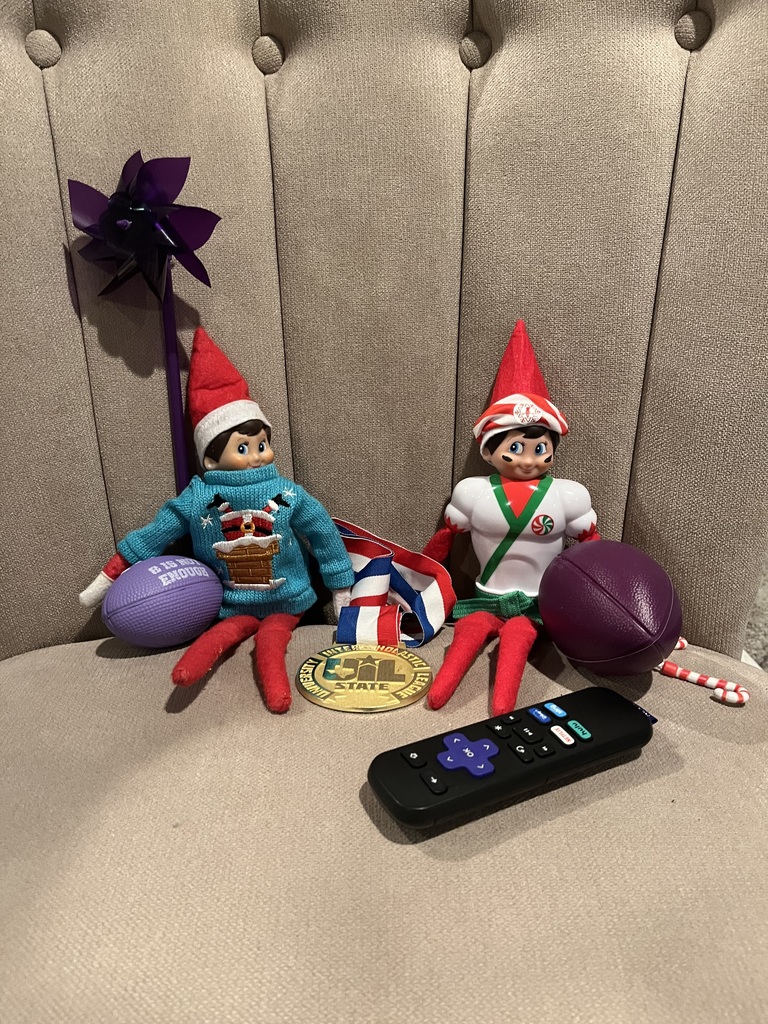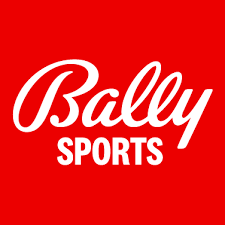 Good Morning, For those of you who purchased a sweater from the Mart JH fundraiser, there has been an issue with the coloring of the sweater. We are working with the manufacturer right now to try and have the sweaters corrected or a full refund given, but at this time the product we received is not acceptable given the cost of the sweaters. Please be patient as we hope to have this matter resolved as soon as possible. If you have any questions regarding your order, please reach out to Ashley Wilton or Samantha Whisenhunt at Mart High School. Thank you.