Happy First Day of School! ES Parking Lot Update: The portion we need is not still under construction so we will be able to loop through the visitor's parking lot like in year's past for car pick up this afternoon. Cones will be there to help guide the lines. High school is reversing it's flow of traffic after seeing some hiccups this morning. All cars (student and parents) should enter on the gym side and exit on the ag building side (opposite of this morning).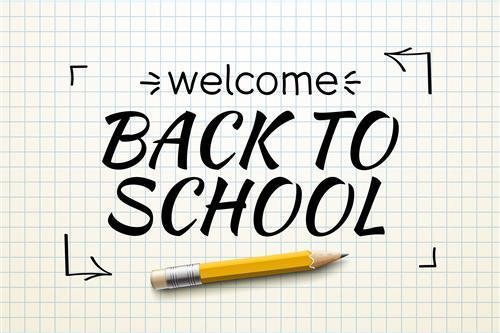 We had a great turnout at Meet the Teacher!. Thank you to Enel for providing Kona Ice for our students. Please note the reminders on dress code in the picture attached. School starts at 7:45 tomorrow at ES and 7:50 at HS. We can't wait to see you tomorrow! #PANTHERFamily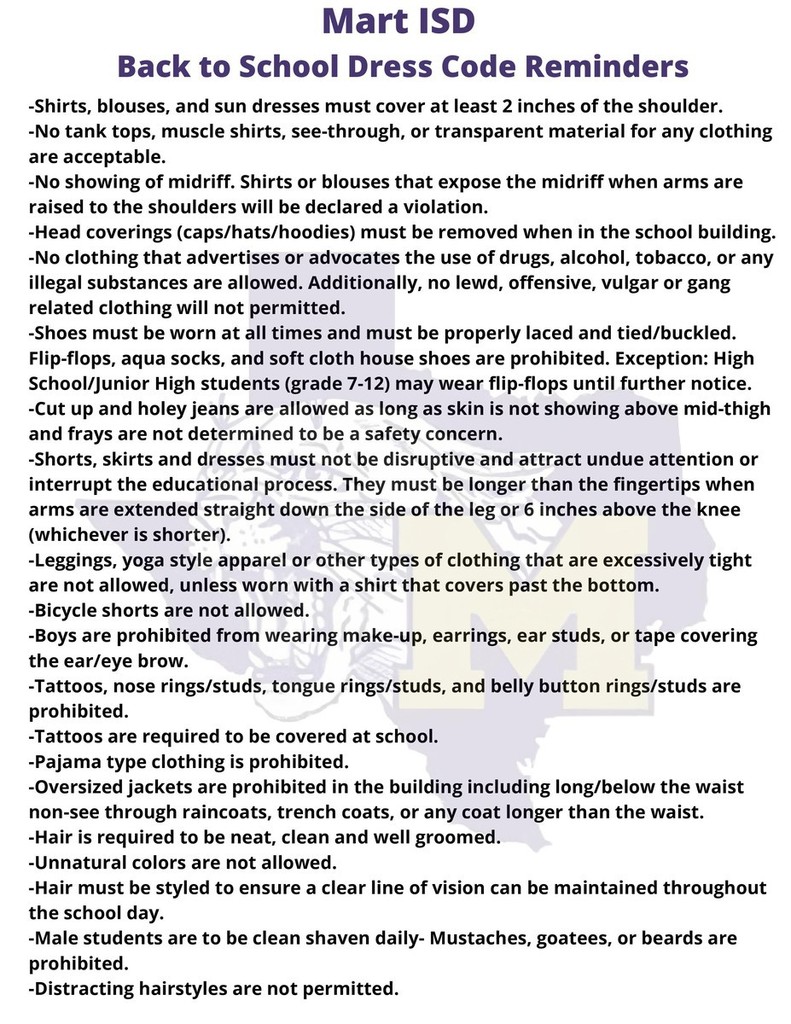 Parking Lot update: All parking lots will be completed and open on Monday, August 22nd (except for striping). Most of the visitor's lot will be open by the first day of school on Wednesday (see attached picture, area in red closed through Sunday). Tonight the entire visitor's lot will still be off limits. Thank you for your patience while we finish this important project!

Don't forget to join us tonight on both campuses for Meet the Teacher from 4:30 - 6:00! Enel will also be here with Kona Ice for all district students!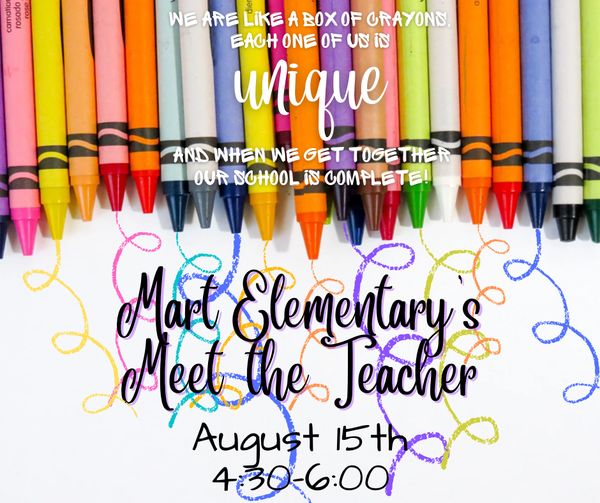 Thank you to all of the families who came out and joined us for our #PANTHERFamily night tonight! Remember - Monday is Meet the Teacher for both the MES and MHS, 4:30-6:00pm. Enel, our local solar farm company will also be providing Kona Ice! See you then!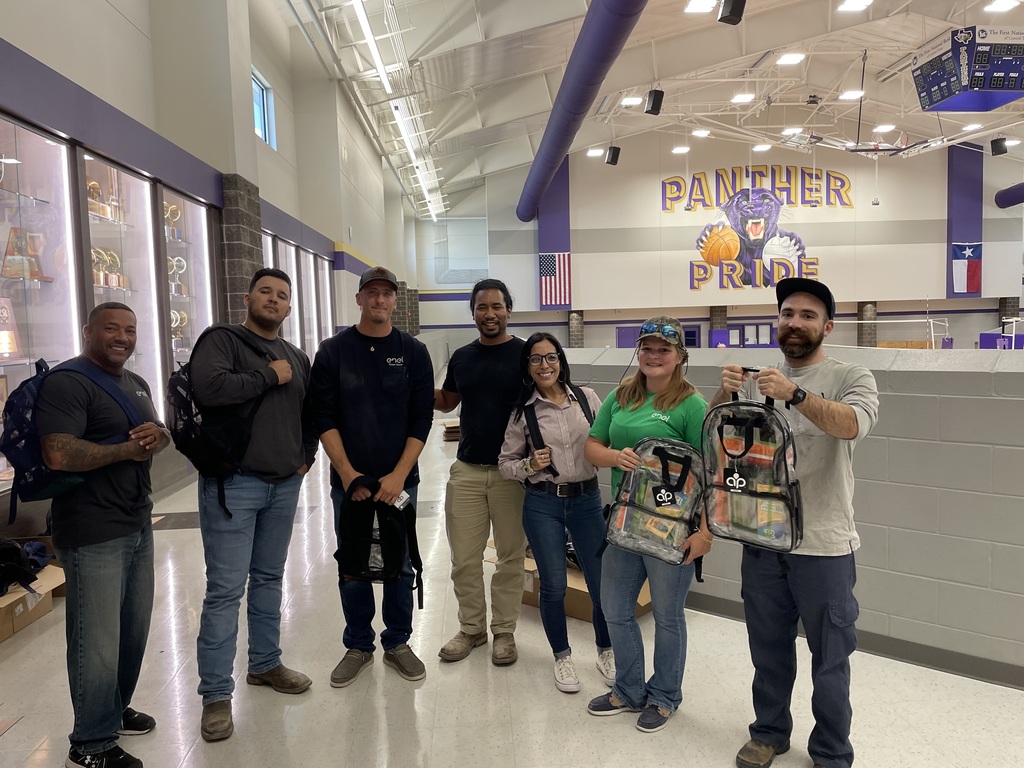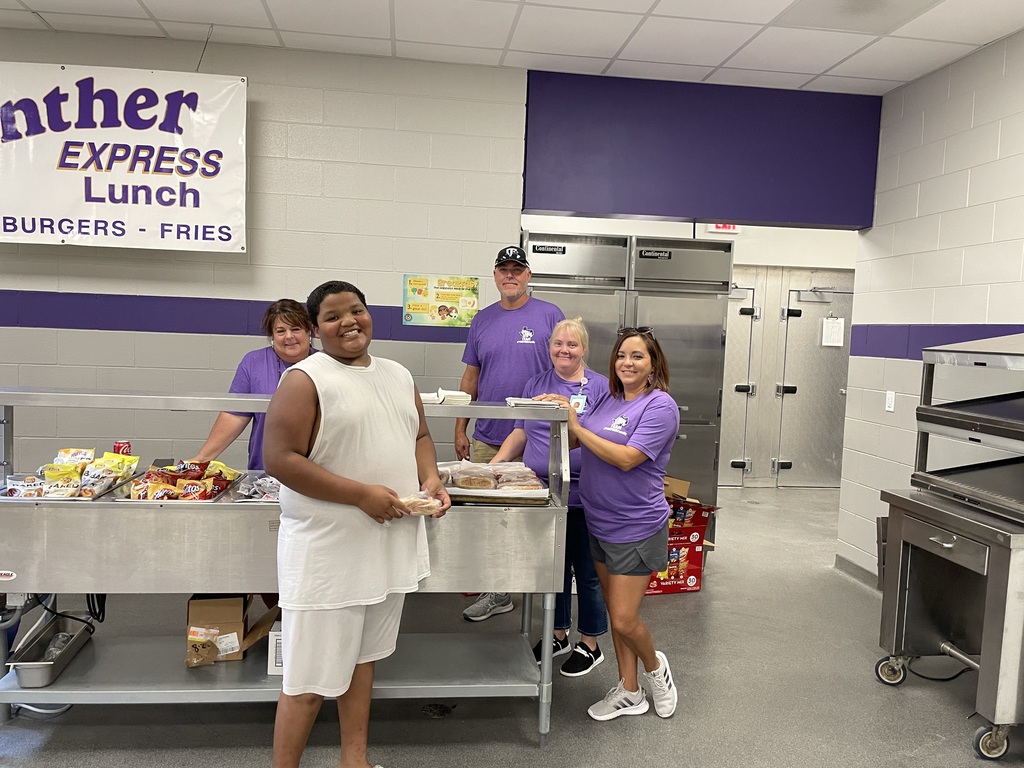 Thank you First Baptist Church of Mart for the delicious luau style lunch today. The food was delicious and the fellowship is always the best. We appreciate your support and prayers as we enter a new school year.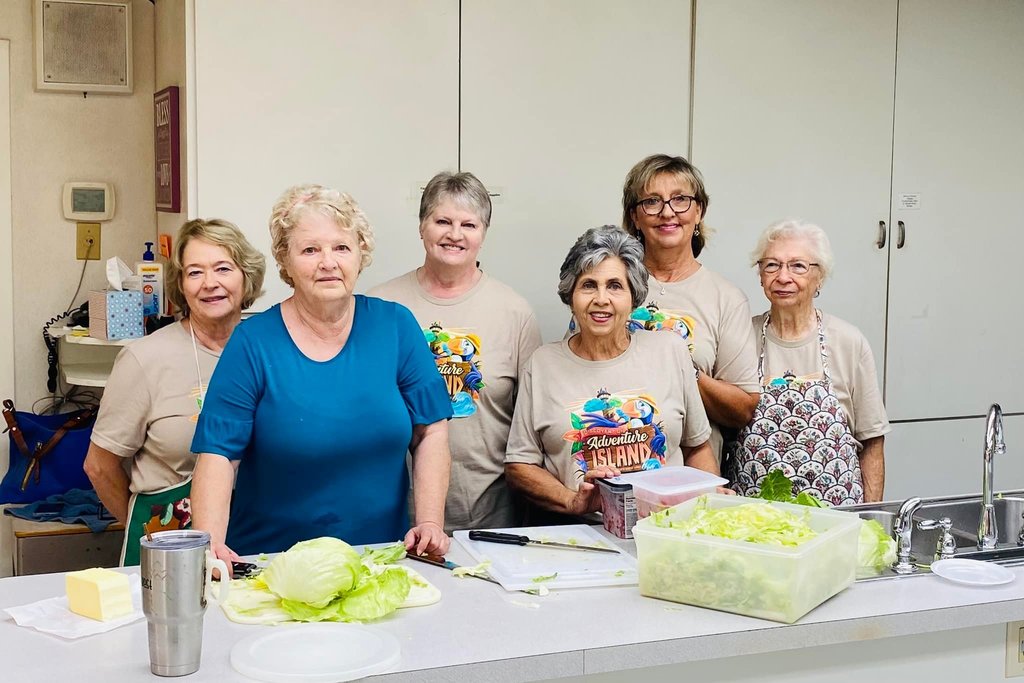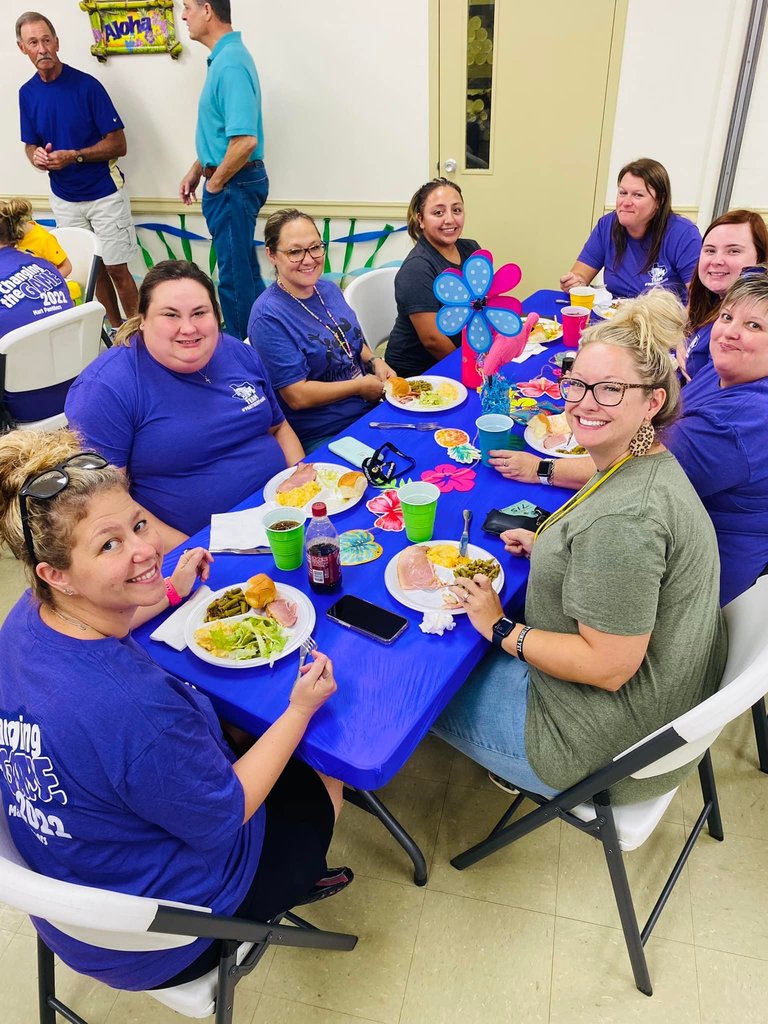 Remember to join us tonight for our 2nd annual #PANTHERFamily night! Food, water slides, school supplies, & fun!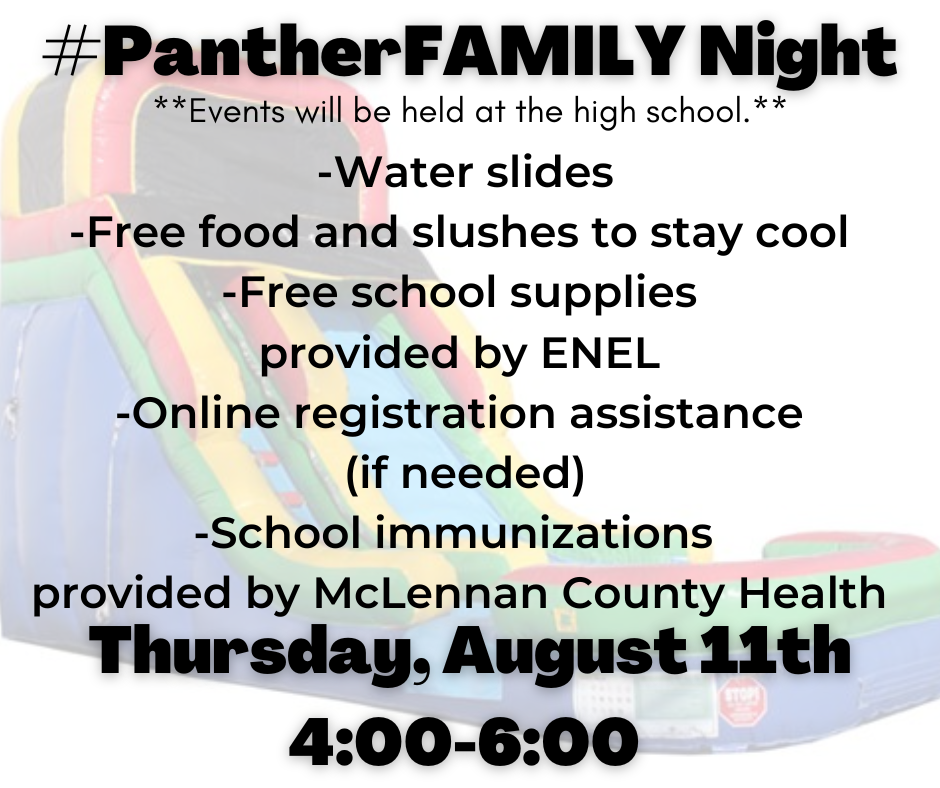 Thank you Methodist Church of Mart for feeding our staff breakfast yesterday and hosting us for lunch today. We truly appreciate your support and prayers for the upcoming school year.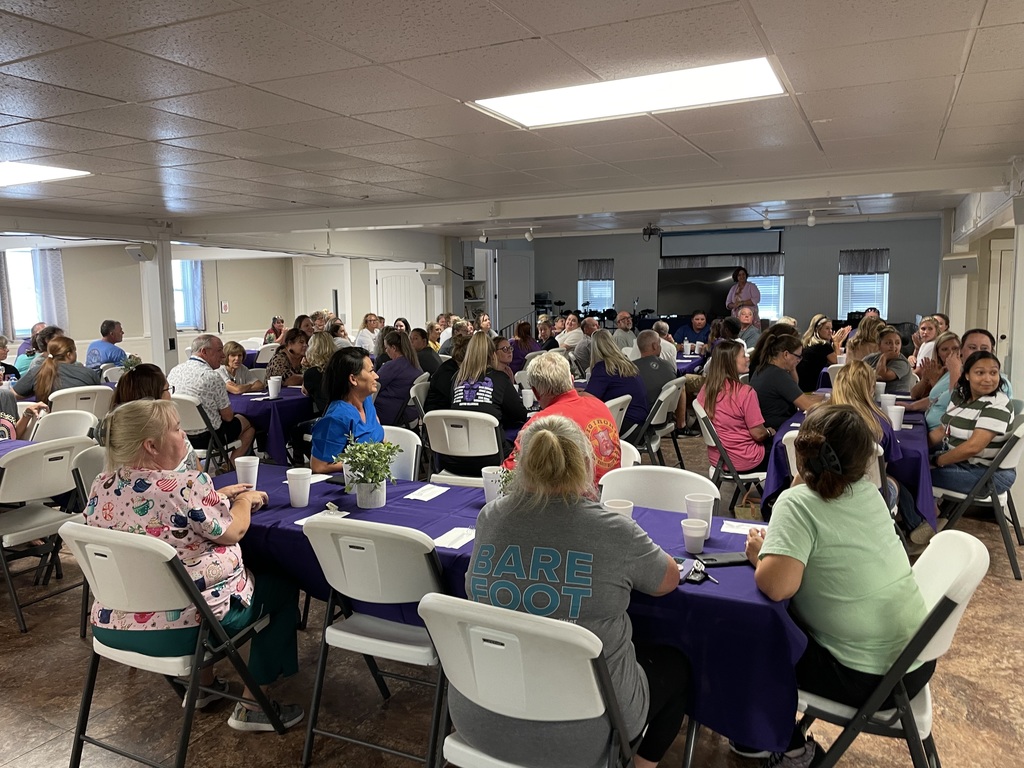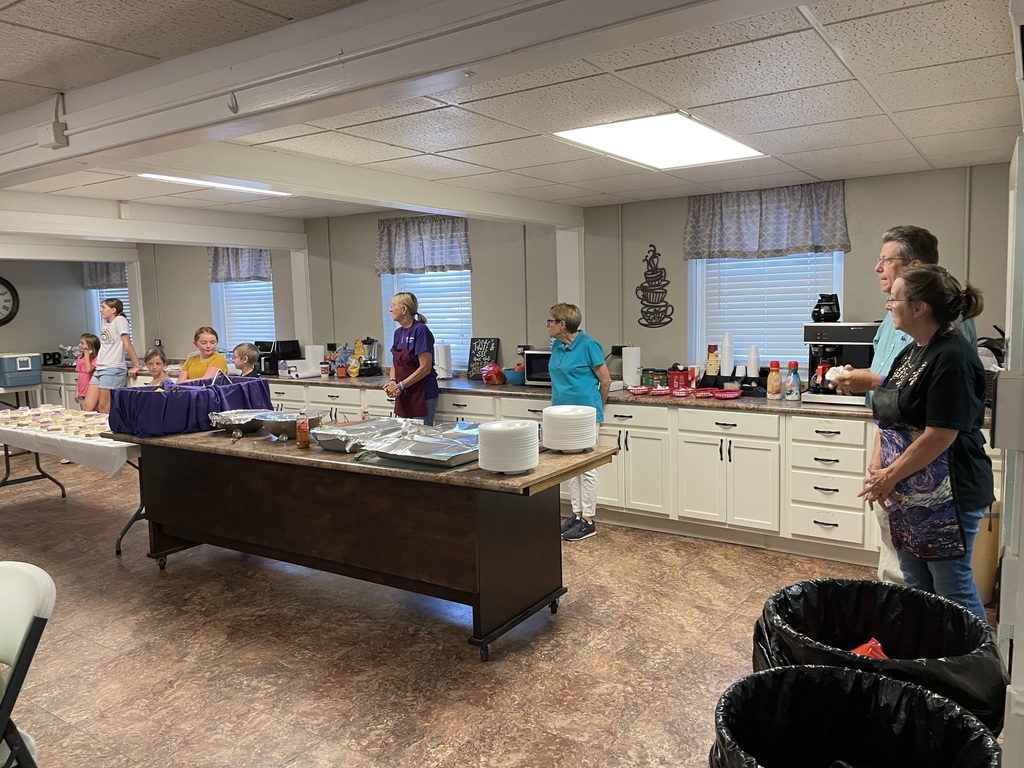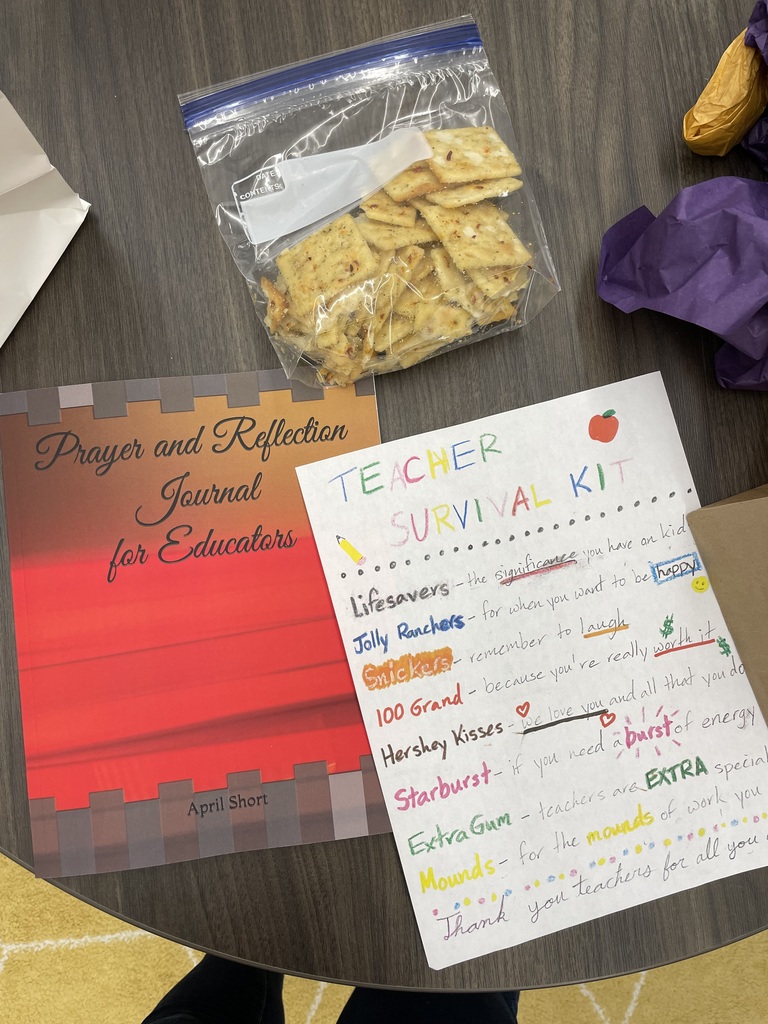 Come out and support the Mart Panthers in their first scrimmage and make a donation to the THSCEF Benevolence Fund.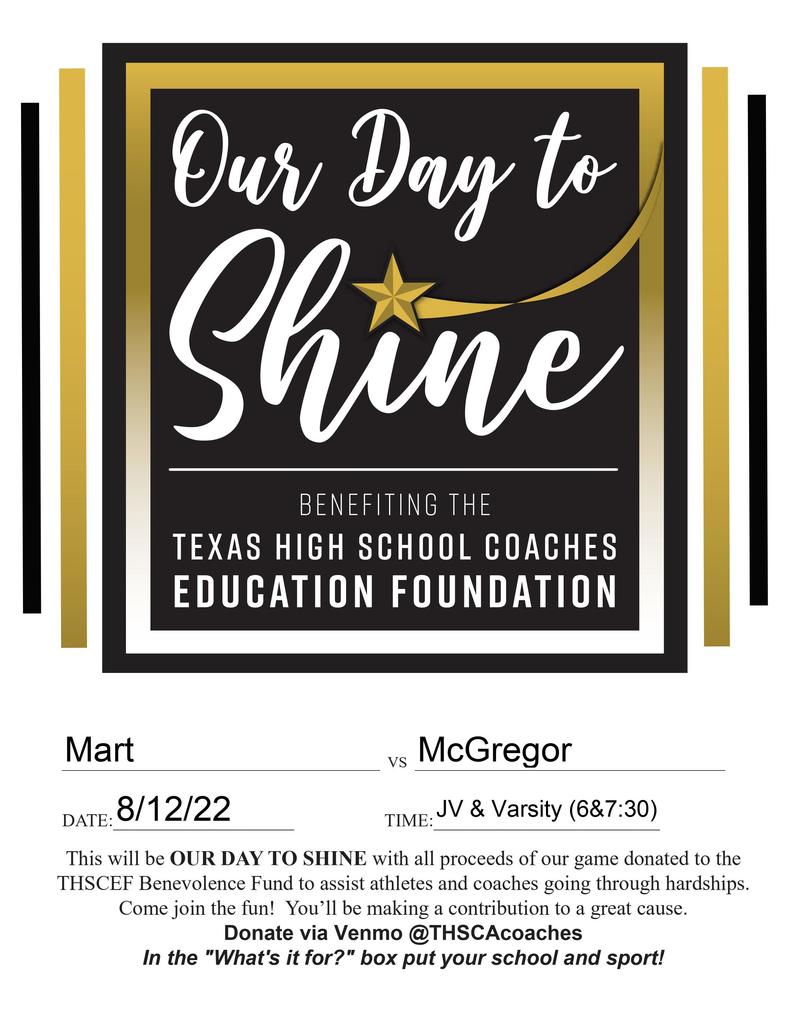 Football Scrimmage Time Change: Friday, August 12 @ McGregor HS vs. McGregor and Bruceville-Eddy JV @ 6:00 pm Varsity @ 7:30 pm

Ascension Providence is offering free medical services for families on 8/13/22 at the BASE in Waco. See the flier for more information.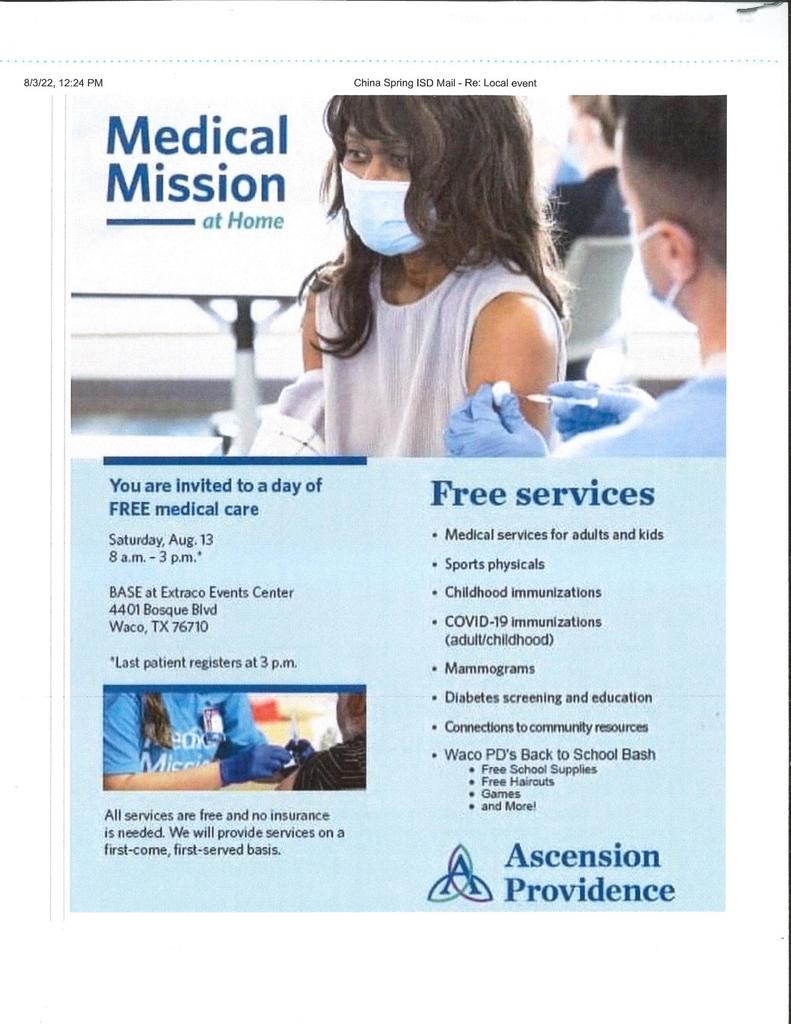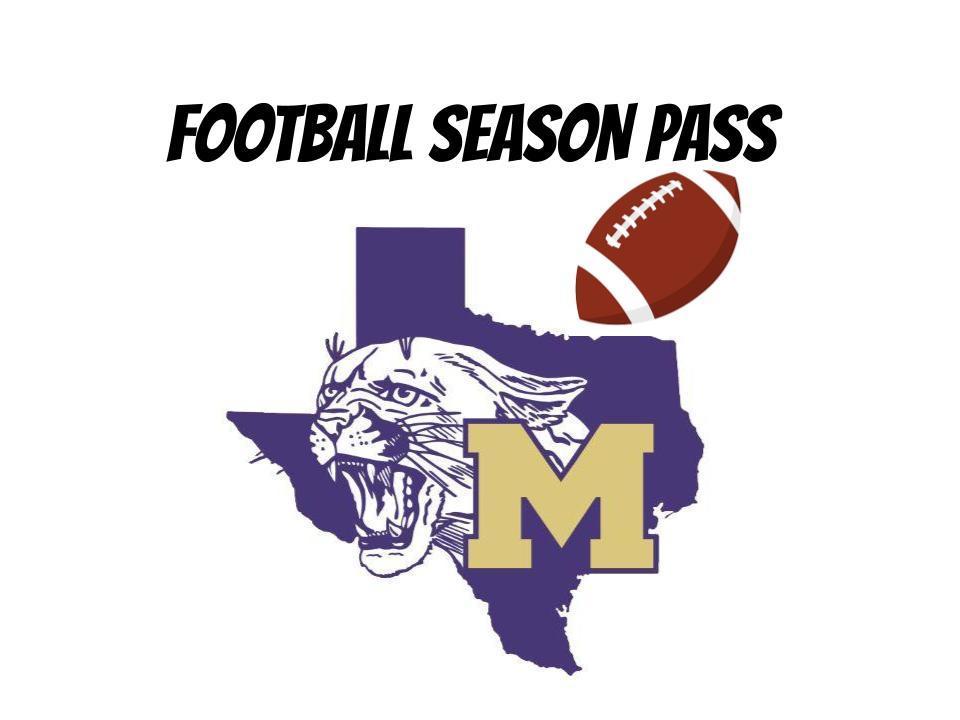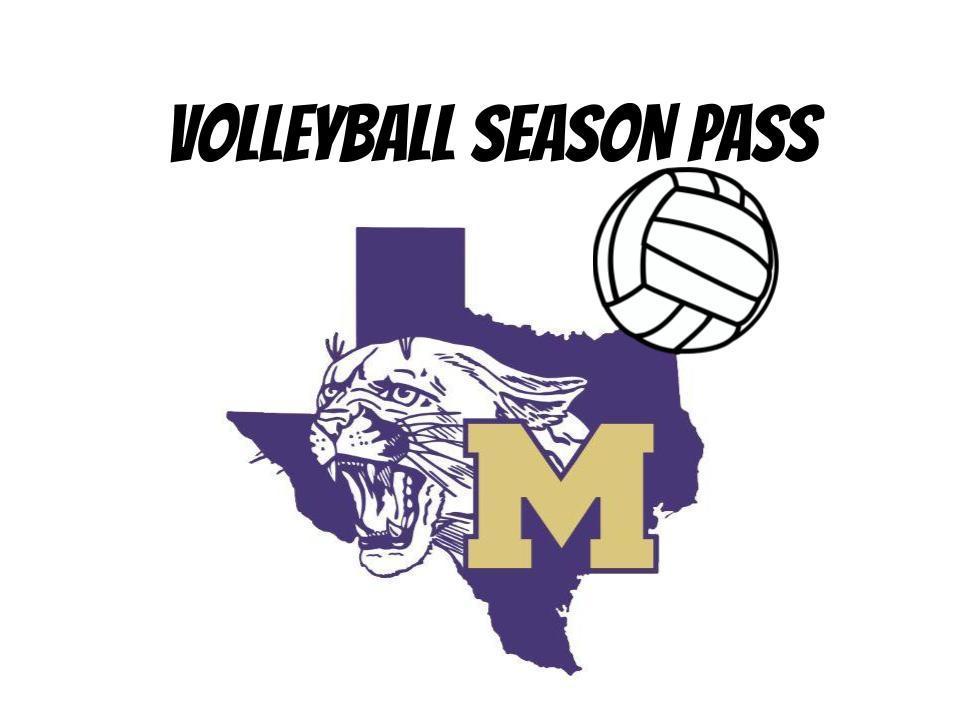 Mart ISD would like to welcome Charity Terry to the #PANTHERFamily. Mrs. Terry will be a paraprofessional on our elementary campus. Hello everyone, I'm Charity Terry and am so very excited to join Mart Elementary as a SPED paraprofessional. I've been a proud Mart Panther since the 5th grade! I married my high school sweetheart, Michael, 34 years ago. We raised our 4 children here and 5 of our 7 grandchildren will also be Mart Panthers. The other 2 will be Abbott Panthers…..as long as they are Panthers, right? I love spending quality time making memories with my family and being active with my grandchildren. If you hear your elementary babies refer to someone as Nonny, that would be me. They have probably heard my grandchildren telling everyone exactly who I am. I have no problem being their Nonny too! 💕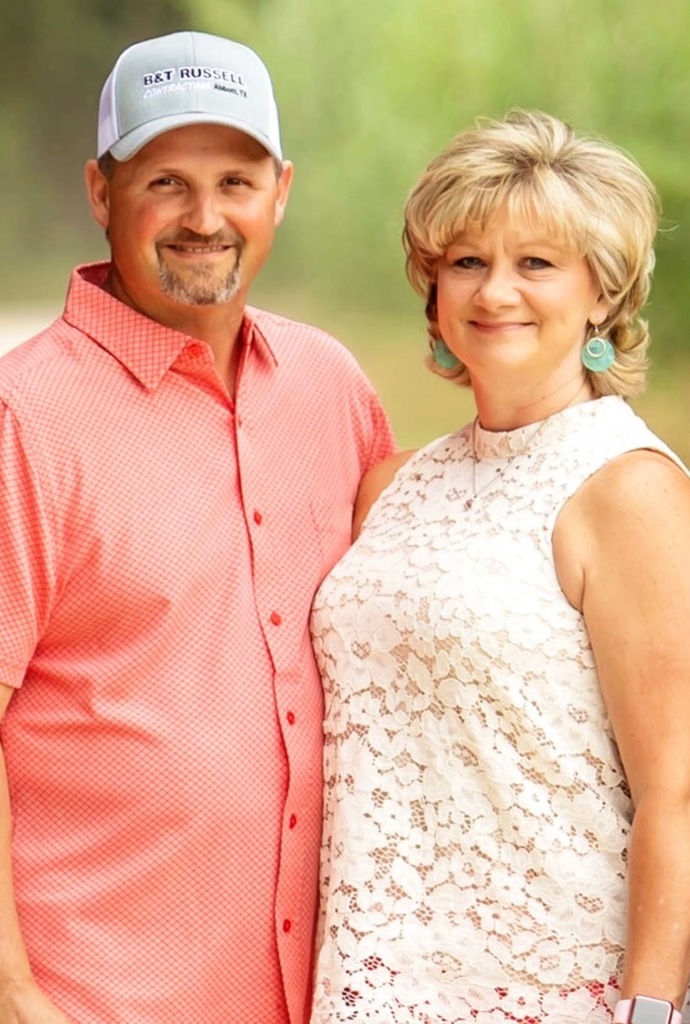 Waco Cardiology Associates will be offering FREE heart screenings and a community health fair for children ages 14-18. Highly recommended for student athletes! Saturday, August 6th 9:00am-12:00pm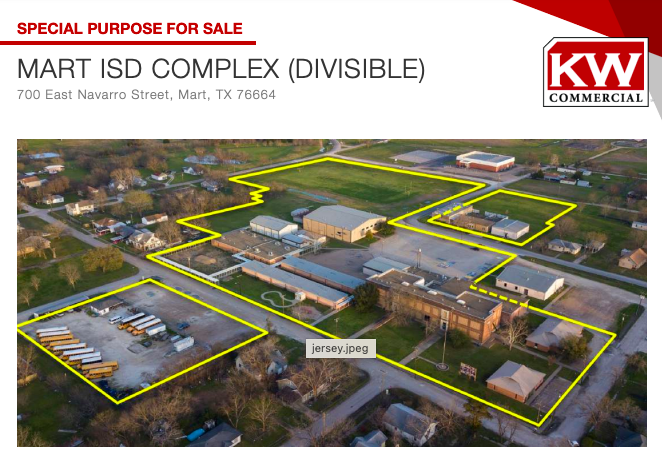 Please plan to join us for our 2nd Annual #PANTHERFamily night!

Registration for the 2022-2023 school year is now open. All parents of existing Mart ISD students should log in to their Family Access portal and complete the registration tile. New students to the district should follow the new student enrollment link found on the school website. Once enrollment is accepted, new students will be able to register. PreK students who have received their letter of acceptance need to register. If you did not receive a letter or have a question about acceptance please contact Mrs. Stone at
amy.stone@mymartisd.org
.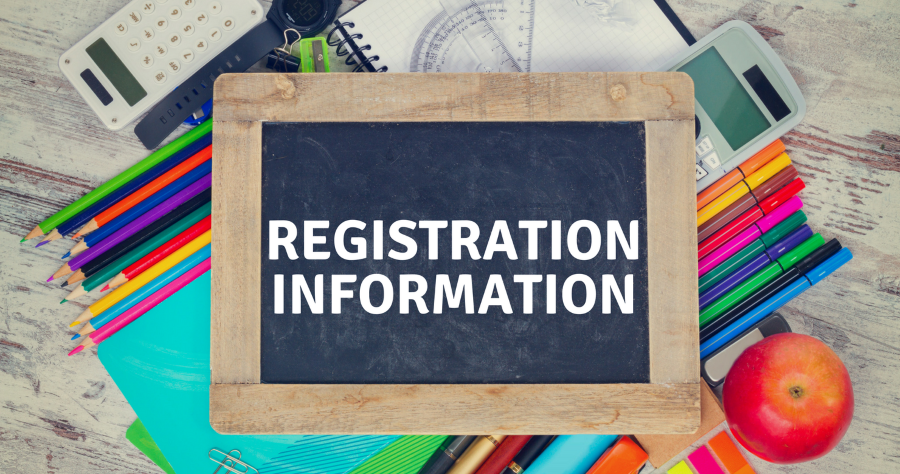 We hope you will join us for Meet the Teacher night at Mart Elementary on August 15th from 4:30-6:00!